Press conference: results of activities within the COVID-19
otrokhymenko
On this day we applaud the staff and 14 million volunteers of the International Red Cross and Red Crescent Movement all over the world, who are at the forefront of the COVID-19 response.
Ukrainian Red Cross Society has recently celebrated the 102nd anniversary of its foundation, and developed into a trusted and reliable auxiliary to the Government in humanitarian sphere and an organization, to which people can always apply for support. Responding to COVID-19 the Society has mobilized all its available resources.
In particular, in March and April 2020:
Ukrainian Red Cross provided support to 102.5 thousand beneficiaries and 41 hospitals;
172.4 thousand personal protective equipment was distributed;
4.8 million people watched the video content produced by the Ukrainian Red Cross;
850 awareness materials about the coronavirus infection risks were printed and distributed around Ukraine;
information sessions were conducted in 124 core hospitals.
during the quarantine period 1035 volunteers contributed to the response activities with 14,744 volunteer hours in total. More information about the activities are available in the infographics.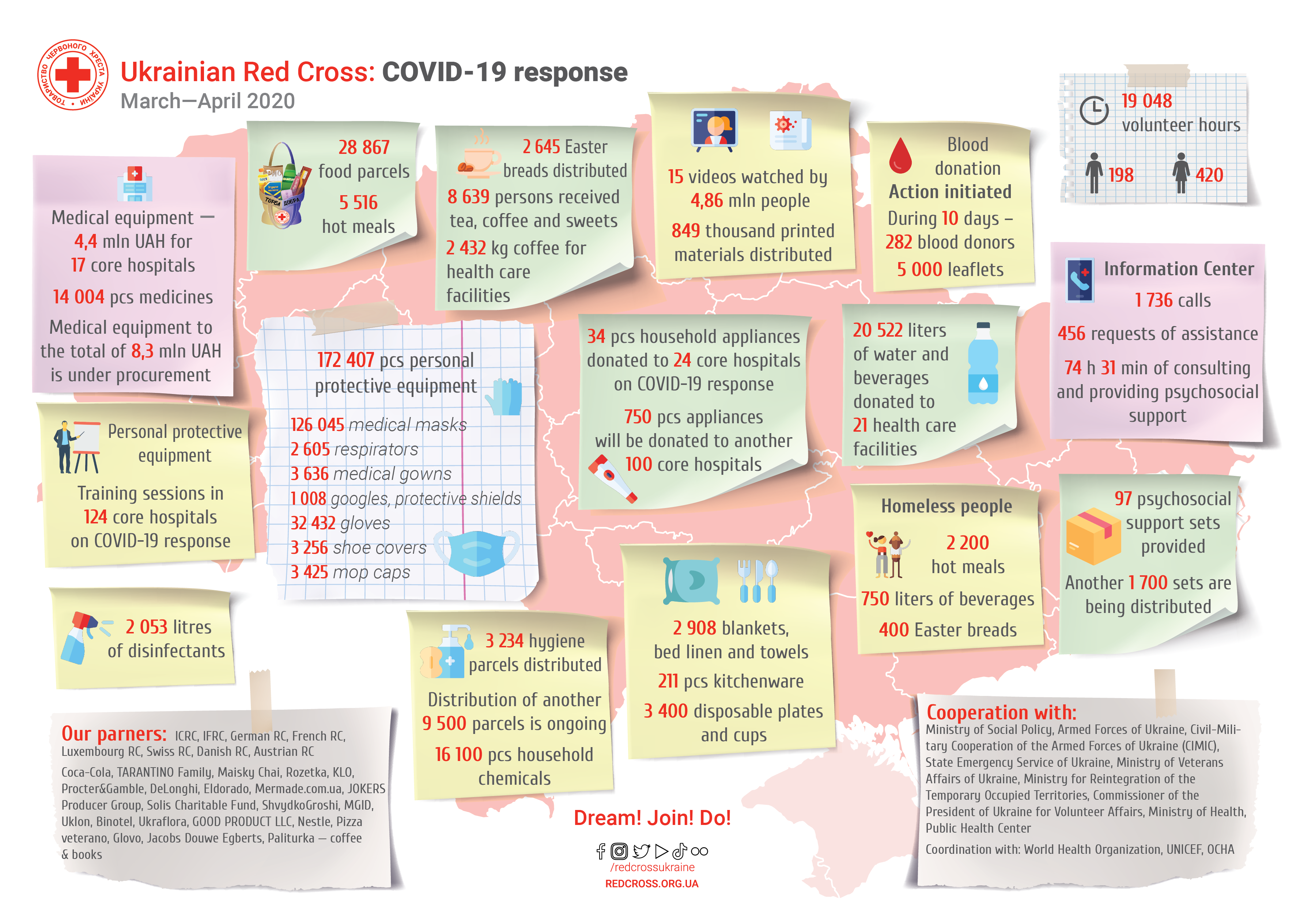 At the press conference, the management of the Society presented the results of activities within the COVID-19 response, namely:
assistance to medical institutions, rescuers, elderly and people with disabilities provided during the quarantine;
activities of the Red Cross volunteers;
blood donation initiative;
information campaign, etc.
The press conferences participated by:
Lilia Bilous, Director General of the National Committee of Ukrainian Red Cross Society
Maksym Dotsenko, Deputy Director General of the National Committee of Ukrainian Red Cross Society
Irina Boicheva, Head of the Cooperation and International Relations of Representatives of the National Committee of Ukrainian Red Cross Society