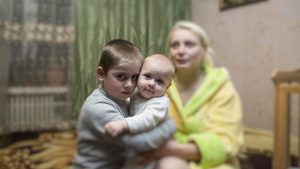 Assistance provided to the internally displaced persons (IDPs)
Since the first days of the armed conflict in the country, the Ukrainian Red Cross Society, in accordance with its mandate, provides IDPs from the Crimea, Donetsk and Luhansk regions, hospitals, as well as the citizens who live in the eastern regions with the financial assistance, food, detergents, blankets, bed linen, clothing, footwear, medicines and so on.
Owing to the financial and material support from our international partner organizations, the National Committee and the jurisdictional organizations of the Society are implementing more than 20 programs to assist the victims of armed conflict in the Eastern Ukraine, IDPs and those most needy categories of the local population in all regions of Ukraine, including the residents who live on NGCA territories in Donetsk and Luhansk regions.
During the period since 2014 till now, the humanitarian assistance was provided to more than 1 million of IDPs for the total amount of more than UAH 388 million.