Сonflict and industrial risks in eastern Ukraine
otrokhymenko
On 23 October 2019, the 3P Consortium will hold a conference in Kyiv aimed at raising awareness of conflict and industrial risks in eastern Ukraine, and particular vulnerabilities of the conflict-affected communities and systems. Local, regional and national authorities will participate, including representatives of the Government of Ukraine, along with representatives from the humanitarian and development communities, foreign investors, and Ukrainian civil society organisations.
The conference, funded by the European Union through its Civil Protection and Humanitarian Aid Operations department, addresses three key aspects of disaster risk management:
Risks: Decaying industry in eastern Ukraine increases the risk of an ecological disaster – with armed conflict still unfolding in the region, this could affect millions of people on both sides of the line of contact. Making area-based information on these risks available can enable evidence-based preparedness and planning.
People: In an emergency, local communities are the first to be affected, and often the first to respond. Communities know best their own needs, capacities and gaps: including them in planning is crucial. Prepared communities save lives.
"Local citizens are the first at the epicenter of the event, people who understand the needs of their family and their environment in an emergency. That is why our important goal is to prepare the community," – said Lilia Bilous, director general of the Ukrainian Red Cross. – It is important to provide communities with the tools and knowledge that will make people feel safe."
Law: Global, national and non-governmental disaster risk reduction policy frameworks and initiatives can guide the ongoing reforms of the civil protection and environmental safety sectors in Ukraine and enhance preparedness to, prevention, and protection of civilians during disasters.
3P Consortium partners will, based on these priorities, refine their activity roadmap for the coming year, and support multi-stakeholder coalitions to enhance efforts towards sound disaster risk management in eastern Ukraine, in line with commitments made under the Sendai Framework for Disaster Risk Reduction 2015-2030.
"The Conference was a great opportunity for local authorities from conflict-affected areas to bring first-hand knowledge and raise awareness of these risks among national and international organisations, donors, and representatives from the new Government of Ukraine – all of whom are stakeholders with potential to mobilize resources and support better preparedness, planning and mitigation of these risks." – Jan Severa, 3P Consortium Manager.
The 3P Consortium's work is part of the international response to the conflict in eastern Ukraine, which has affected 5.2 million people since 2014. Today, over 3 million people remain in need of humanitarian aid, and 6 years of fighting in eastern Ukraine have left the civilian population vulnerable to conflict-related risks, such as shelling or prolonged cuts of services. The protracted conflict has also increased the risks posed by industrial and environmental hazards present in this historically heavily industrialised area. Notably, a substantial number of such hazards sit close to the 'line of contact', where fighting still takes place almost daily. It is therefore paramount to reinforce local authorities' capacity to prevent a large-scale disaster through improved planning, prepare communities to respond to these risks, and enhance capacities to protect the civilian population should a disaster strike.
"The EU is committed to supporting Ukrainian civilians affected by the ongoing conflict. We are keen on seeing the results of this important disaster risk management initiative that we are supporting in Ukraine. We believe this conference will serve as a fruitful platform to create synergies to better protect civilians from environmental and industrial hazards." – Samuel Marie-Fanon, Head of Ukraine Office, European Union Civil Protection and Humanitarian Aid.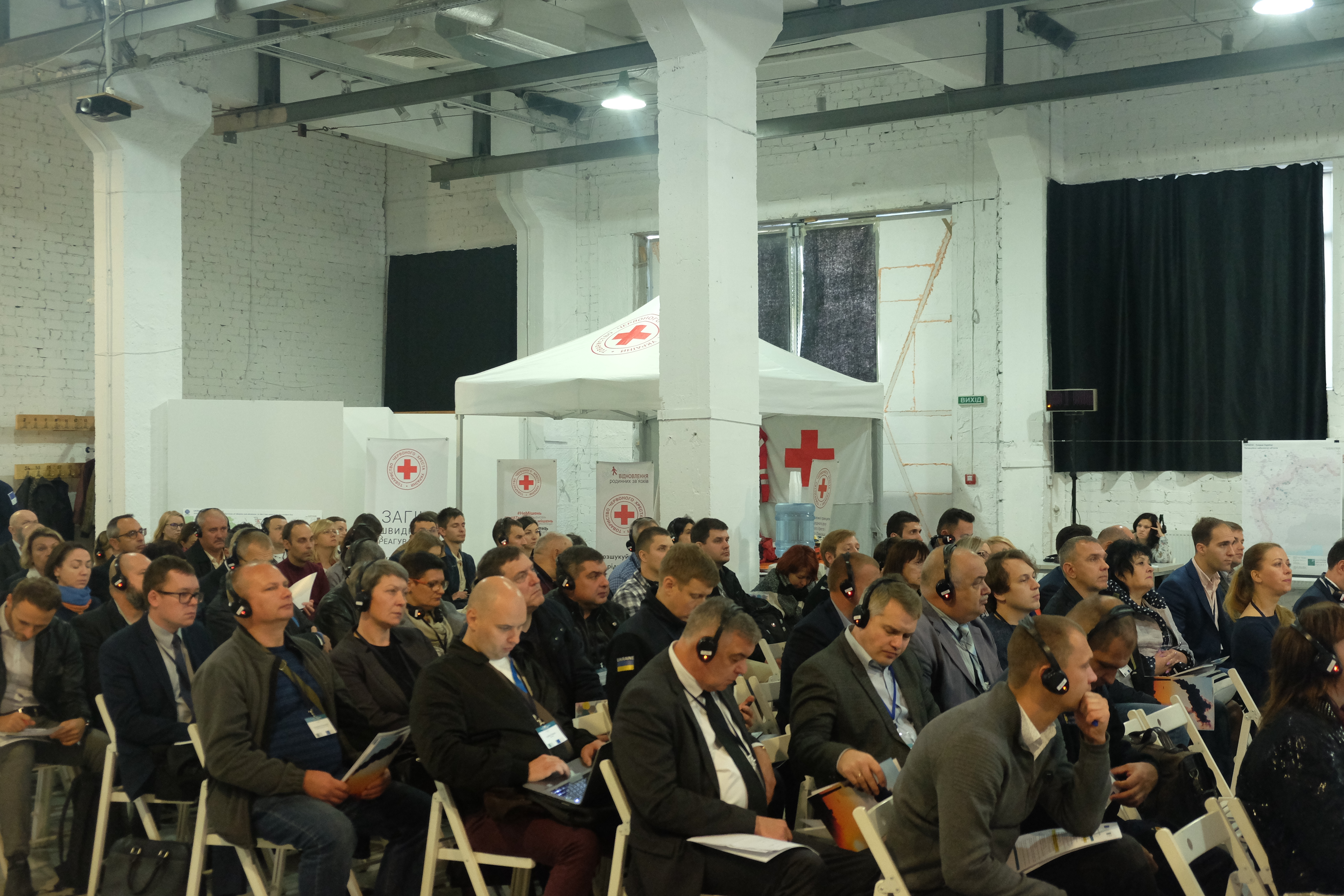 The Consortium
The 3P Consortium was formed in 2019, and comprises a group of international and national NGOs engaged in Ukraine – ACTED, IMPACT Initiatives, Right to Protection, the Danish Red Cross, the Austrian Red Cross, and the Ukrainian Red Cross Society. Under the leadership of ACTED, the 3P Consortium works to support the reduction of disaster risk vulnerability in eastern Ukraine.
3P partners are united by their desire to prevent, prepare and protect – the '3P' – civilian populations and critical service systems against the risks of natural, ecological and industrial disasters in eastern Ukraine. By October 2020, partners plan on reaching at least 15,150 people and 45 organizations in Popasna raion in Luhansk, Yasinovata and Bakhmut raions, Toretsk municipality and the Volnovakha/Mariupol area in Donetsk.
The Project
Through the implementation of activities in raions and municipalities which border the line of contact and where industrial/ecological hazards are located, the 3P Consortium will improve understanding of, and promote and take measures towards, preparedness to industrial and ecological risks – including those exacerbated by the conflict.
Over 18 months, the 3P Consortium will target 15,150 individuals and 45 organizations through the realization of three objectives:
Advocate for legislative gaps and investment priorities and enhance coordination amongst key stakeholders at national level;
Improve understanding of risks and strengthen risk management capacity at district and regional levels;
Enhance community awareness, preparedness and response at local level.
More specifically, Consortium partners will work towards a) identifying and mapping out ecological/industrial risks; b) jointly with local authorities, developing local mitigation/response/evacuation plans in relation to these risks; c) supporting plan implementation, including through targeted material investments; d) enhancing local authority capacity to manage risk and build population resilience; e) working with communities to increase resilience, preparedness and capacity to cope with risk; and f) advocating towards national authorities and donors for policy change and investments in DRR.
The Partners
ACTED www.acted.org: ACTED is a French humanitarian organization present in 37 countries and supporting over 16 million beneficiaries worldwide. ACTED works to save lives and support people in meeting their needs in hard to reach areas. ACTED first responded to the crisis in Ukraine in 2015, with its partner IMPACT through the REACH Initiative. Since 2018, ACTED distributes emergency cash assistance to cover the basic, food security and winterizations needs of the most vulnerable populations in eastern Ukraine. In 2017, ACTED also started implementing emergency preparedness and contingency planning activities jointly with local authorities in conflict-affected areas. ACTED has been working with local authorities on issues of preparedness and response to emergencies in conflict-affected areas since 2017.
IMPACT Initiatives https://www.impact-initiatives.org: IMPACT Initiatives is a leading Geneva-based think-and-do tank. Together with sister organization ACTED and UNOSAT, IMPACT launched in 2010 the REACH Initiative, which provides granular data, timely information and in-depth analysis from contexts of crisis, disaster and displacement to feed into evidence-based aid response and decision-making. Since 2016, the REACH initiative has been leading annual interagency humanitarian needs assessments to inform the Humanitarian Needs Overview and Response Plans in Ukraine. IMPACT – including through REACH – also provides continuous information management and geographic information systems support and capacity building to humanitarian agencies and clusters. IMPACT has been providing capacity reinforcement and technical support to local authorities in eastern Ukraine since 2016.
Right to Protection http://r2p.org.ua/en/: Right to Protection (R2P) is a Ukrainian not-for profit organization. R2P is dedicated to protecting refugees who find themselves in Ukraine due to dire circumstances. R2P ensures the protection and human rights of other vulnerable migrants – the conflict affected, the internally displaced (IDPs), the stateless, the undocumented and those at risk of statelessness. R2P's key programmatic strengths are legal assistance, monitoring, advocacy as well as government and civil society capacity building. R2P has approximately 150 staff members working across Ukraine.
Danish Red Cross https://www.rodekors.dk: The Danish Red Cross (DRC) is part of the Red Cross Movement, which operates in over 190 countries and has more than 11 million volunteers. DRC provides aid particularly in areas with very limited access and complex crises in more than 30 countries over the world. Present since 2014 in Ukraine, DRC works in close partnership with the Ukrainian Red Cross Society (URCS) and have been addressing together humanitarian and social needs in more than 15 Regions of Ukraine through psychosocial support, cash assistance, winterization response or activities aiming at greater social cohesion. DRC is supporting branch, volunteer and youth development of the URCS, as well as enhancing preparedness and response capacities.
Austrian Red Cross https://www.roteskreuz.at: The Austrian Red Cross (AutRC) is also part of the Red Cross Movement and puts the philosophy "To improve the lives of vulnerable people by mobilizing the power of humanity." into practice day after day. AutRC has a longstanding partnership with the Ukrainian Red Cross Society (URCS) aiming at capacity building in the area of Civil Protection and Home Care as well as in providing humanitarian aid to the affected population in east Ukraine through cash assistance project and Mobile Health Units.
Ukrainian Red Cross Society (URCS) https://redcross.org.ua/en/: The Ukrainian Red Cross Society (URCS) is the largest national humanitarian organization in Ukraine. The main aims of URCS's activities for more than 100 years has been to ensure human life protection, prevention and mitigation of human suffering during armed conflicts, natural disasters, catastrophes and accidents; support public healthcare services; and assist public authorities of Ukraine in their activities in the humanitarian field. This is achieved unbiasedly, without any discrimination based on nationality, race, gender, religion, language, class or political convictions. URCS is constantly present on the Line of Contact, supporting the population with different activities including first aid trainings, psycho-social support and supporting activities for/with local communities. URCS also actively engages with ICRC operations in eastern Ukraine.
EU Civil Protection and Humanitarian Aid https://ec.europa.eu/echo/index_en: The European Union and its Member States are the world's leading donor of humanitarian aid. Relief assistance is an expression of European solidarity with people in need around the world. It aims to save lives, prevent and alleviate human suffering, and safeguard the integrity and human dignity of populations affected by natural disasters and man-made crises. Through the European Commission's Civil Protection and Humanitarian Aid Operations department (ECHO), the European Union helps millions of victims of conflict and disasters every year. With headquarters in Brussels and a global network of field offices, the EU provides assistance to the most vulnerable people on the basis of humanitarian needs.