Two Ukrainians were awarded the Florence Nightingale Medal
otrokhymenko
This year 29 nurses from 19 countries were awarded the Florence Nightingale Medal, including two Ukrainians, Valentina Basova and Nataliia Yakovleva, who have shown exceptional devotion in caring for victims of armed conflict and disaster situations in Ukraine.
Valentina Basova is the Head of Dniprovskiy and Khortytskiy District URCS Branches in Zaporizhia region, and Natalia Yakovleva is the Head of Stanychno-Luhanskyi District URCS Branch in Luhansk region. These two dedicated representatives of the Ukrainian Red Cross Society continue to do work in the field.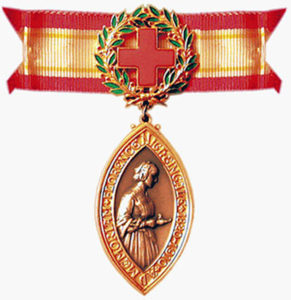 The Medal is awarded for exceptional courage and devotion to the wounded, sick or disabled or to civilian victims of a conflict or disaster" or "exemplary services or a creative and pioneering spirit in the areas of public health or nursing education.