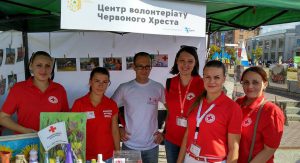 Volunteering
Volunteer work has been an integral part of the International Red Cross Movement since the very start. In 1859 a young Henri Dunan became the first volunteer-manager, organizing local volunteers to aid the wounded on the battlefield.
It was the first time in Europe, when the wounded received assistance regardless of which of the warring parties they belonged to. He went home and wrote the book 'Memories of Solferino', which was published a few years ago with the founding of the Red Cross.
Millions of volunteers every day play a significant role in supporting the work of employees of the Red Cross and Red Crescent Societies around the world.
Our volunteers work in various areas. This help elderly people at home, work with small children, participating in campaigns and actions aimed at countering the spread of socially dangerous diseases (HIV / AIDS, tuberculosis) and other areas. Everyone chooses the direction in which he sees himself best.
Volunteers also have the following unique characteristics:
Strong personal motivation. This is what distinguishes a highly skilled Red Cross volunteer from all others.
Part-time. Most people devote only a few hours a week to volunteering. Thus volunteering can be combined with training, work or other activities for many years.
Local involvement. Volunteers are a part of the community. They know the needs and capabilities of the people with whom they communicate because they are among them.
You can also contribute to achieving our common goal – to make the world better, more humane and more open.
If you are engaged to volunteering, or think about it, or want to learn more about this, the Ukrainian Red Cross Society will be happy to accept you to the members of the International Red Cross and Red Crescent Movement.
Join our team! Be a RC volunteer!