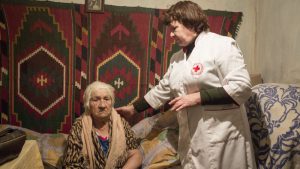 Visiting Nurses Service
The Red Cross Visiting Nurses Service is the longest and most successful project of the Ukrainian Red Cross Society over the years of its existence.
Visiting Nurses Service was founded in 1961 and aimed to provide medical care free of charge, to carry out care and welfare services to disabled lonely elderly people, invalids, veterans of war and labour and to conduct awareness-raising and prevention programs among the population.
Beside provision of medical care according to doctors' prescription, visiting nurses are carrying out individual nursing, solving many issues related to provision of household services, organization of doctors' counselling, arranging of patients to orphanages and more.
Carrying out medical and social services, the URCS organizations first of all provide services to the lonely elderly and disabled people who have partially or completely lost the ability to move and take care of themselves. Annually more than 150 thousand people get support from Visiting Nurses Service.
Visiting Nurses Service is engaged not only to home-based care but also has an extensive network. Medico-social support is provided at medico-social first aid stations of the Ukrainian Red Cross Society.